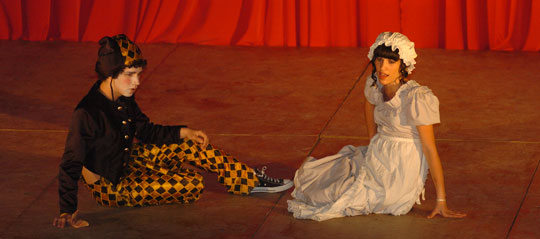 Ellinogermaniki Agogi serves solemnly and consistently its pedagogic mission. Our school's goal is to lead students beyond knowledge to awareness, beyond education to the development and formation of their personality, to their moral and mental cultivation.
For this reason, apart from the knowledge provided to our students, we pursue the elaboration of initiative, the heightening of their sensitivity as well as the enhancement of inclinations and skills.
Our school offers superior cultural education to tomorrow's citizens by organizing art exhibitions, conferences, lectures, debates with distinguished figures of the arts and sciences. The student's visits to areas of cultural and scientific interest, their participation in conferences, the organization and attendance of theatrical performances and music events result in the youngsters' skepticism and quest for truth, while also rewarding them with the pleasure of creation.
As of the school year 2004-2005, a Conservatory of Modern Music Expression operates in Ellinogermaniki Agogi and is officially recognized by the Ministry of Culture. The Conservatory employs select musicians whose aim is not only to offer students modern music education but also the possibility of practicing music from the very first steps.

Page 10 of 16
Έκθεση Γλυπτικής και Σχεδίων
Θόδωρος Παπαγιάννης
Pallini, Wednesday, April 13, 2005
Συζήτηση
Επέτειος Εθνικής Παλιγγενεσίας
Pallini, Monday, March 21, 2005
Έκθεση Αντιπροσωπευτικών Έργων
Φαίδωνας Πατρικαλάκις
Pallini, Monday, February 21, 2005
Παγκόσμια Ημέρα Ατόμων με Ειδικές Ανάγκες
Τρίποντο Αγάπης
Κλειστό γυμναστήριο Χαλανδρίου, Friday, December 3, 2004
Έκθεση Εικαστικών Έργων
Παναγιώτης Γράββαλος
Pallini, Monday, November 22, 2004
Έκθεση
Καλαθοσφαίριση με Καρότσι: χθες, σήμερα, αύριο
Pallini, Wednesday, September 15, 2004
Θεατρική Παράσταση
«Ονειρο θερινής νυκτός»
Pallini, Wednesday, May 12, 2004
Αφιέρωμα
Ευγένιος Σπαθάρης
Pallini, Tuesday, March 30, 2004
Ομιλία
Επέτειος Εθνικής Παλιγγενεσίας
Pallini, Thursday, March 18, 2004
'Eκθεση Ζωγραφικής
«Παγνίου Τόπος» - Βασίλης Σολιδάκης
Pallini, Wednesday, January 28, 2004
< Previous page | 1 2 3 4 5 6 7 8 9 10 11 12 13 14 15 16 | Next page >